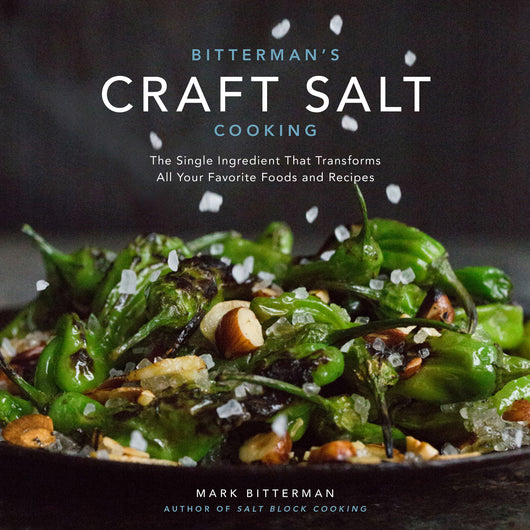 Bitterman's Craft Salt Cooking - Case Pack of 20
From James Beard Award-winning author and best-selling author of Salted: A Manifesto and Salt Block Cooking comes Bitterman's Craft Salt Cooking!
From renowned salt expert and best-selling author of Salt Block Cooking and the James Beard Award-winning Salted, Mark Bitterman, comes this unique guide to transforming your favorite foods with natural, healthful, hand-crafted salt. By simply selecting and using the right salt in the right way, you will vastly improve every dish you make.

This is the essential guide to making great salt the centerpiece of your cooking at home.

We demand quality in our meals, and natural, hand-made salts are the most basic and essential way to make those ingredients shine. Mark Bitterman is THE salt expert and award-winning author. In this book he makes this simple truth abundantly clear with over 60 inspiring recipes such as: Colorado Beef Burger with Mesquite Smoked Salt, and Chilies, Truffle Salt Smashed Roasted Potatoes, Salted Latte Ice Cream with Lemon Espresso Drizzle.

The introduction explores why craft salt is different from iodized salt, kosher salt, and even industrially manufactured sea salt in regard to flavor, nutrition, and sustainability. The many varieties of gourmet salts available today are broken into 7 families (fleur de sel, sel gris, flake salt, traditional salt, shio, rock salt, smoked and infused salts), with helpful charts that make finding the right salt for the right food convenient and easy. The modern, but down-to-earth recipes are organized into practical chapters: Meat, Poultry, Seafood, Eggs and Dairy, Vegetables and Fruits, Sweets, and Drinks and Cocktails. Beyond the recipes, the tips, techniques, and suggestions will help you elevate your tried and true favorite dishes by now using the correct type of salt. Craft salts are not a fad, they are the heart and soul of our food culture today.
About the Author
Mark Bitterman is selmelier and owner of The Meadow, a specialty food business with locations in Portland, Oregon, and New York City. Mark's first book, Salted: A Manifesto on the World's Most Essential Mineral, with Recipes, won a James Beard Foundation Award. A leading expert on finishing salt, chocolate, and bitters, Mark has clientele from top chefs to food manufacturers to home cooks. Mark leads salt-inspired dinners at many celebrated restaurants and lectures at culinary schools such as the French Culinary Institute, the Institute of Culinary Education, and Le Cordon Bleu. He has been recognized as a Local Food Hero by Cooking Light and a Tastemaker in Food & Wine. He has been featured on Splendid Table, All Things Considered, CBS News, ABC News, Fox News, MSNBC, CNN, and the History Channel, and in the New York Times, the Atlantic, O, Wine Spectator, Cooking Light, Esquire, the Huffington Post, Ruhlman.com, and more.
Case pack of 20 books