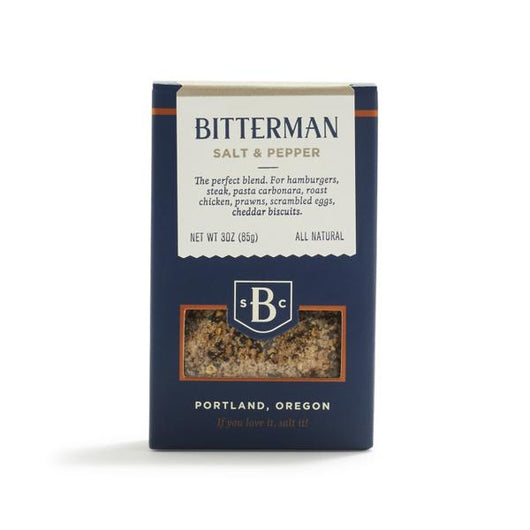 Bitterman's Salt & Pepper
Kind of obvious, isn't it?

But so often the most obvious things are the most wonderful. Open a jar, breath in the resinous, citrusy, bold aroma, and sprinkle your way to some mighty amazing flavor. 
Hand harvested fleur de sel is carefully infused with fresh-cracked organic tellicherry peppercorns to create a fusion reaction of flavor far bigger than the sum of its parts. Use wherever big bold flavor is required. Rub on grilled steak, and then add more at the table. Mix into hamburgers or home-made party mix. Sprinkle over avocado toasts, hard cheese, shrimp skewers, or pasta carbonara. Rub on roast chicken, or stir into cheddar biscuits dough.
Ingredients: Sea salt, Tellicherry pepper
Made in Portland, Oregon!