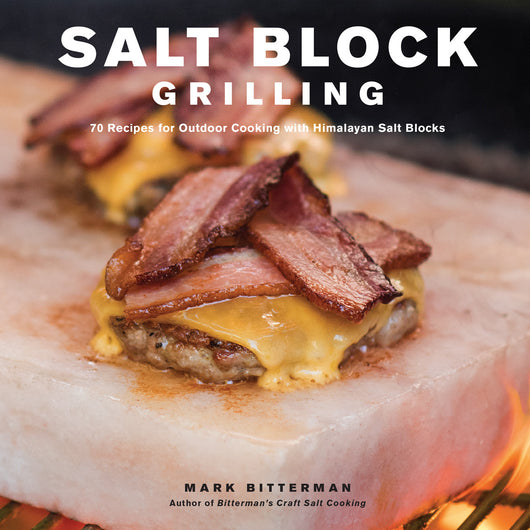 Bitterman's Salt Block Grilling - Case Pack of 20
Over 70 all new recipes for grilling traditional and nontraditional dishes on a Himalayan salt block from salt expert and best-selling author of Salt Block Cooking, Mark Bitterman.
Everyone who loves the excitement and pleasure of discovering new cooking techniques will enjoy this guide to grilling and entertaining with salt blocks. The introduction is your salt block owner's manual, with everything you need to know to purchase, use, and maintain salt blocks with confidence. The six chapters that follow are divided into over 70 recipes organized by key ingredients: Meat, Seafood, Poultry, Vegetables and Fruit, Dairy, and Doughs. You'll find recipes for Salt Seared Smoked Pork Belly, Lamb Satay with Mint Chutney and Spicy Peanut Crumble, Salt Seared Tuna Nicoise Salad, Hot Salted Edamame with Sesame, Shiso, and Szechuan Pepper, and Salty, Smoky Walnut-Chocolate Chunk Cookies.
Bitterman is the foremost salt block expert and one of the largest importers and retail distributors of salt blocks.The precious pink mineral mined from ancient hills in Pakistan's Punjab province has arrived on the American cooking scene as an exciting and enticing new form of grilling. Himalayan salt blocks are available at specialty retail stores around the world and the market is growing.