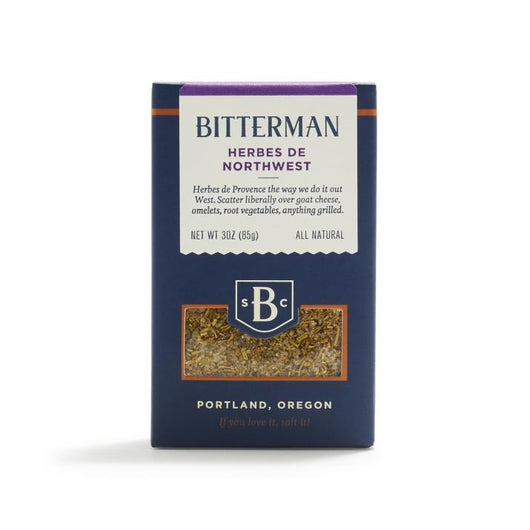 Bitterman's Herbes de Northwest™ Sea Salt
Herbes de Provence, Local-Style

Enjoy the flavor and aroma of the bold Pacific Northwest! Scatter liberally over goat cheese, omelets and anything grilled.
Blue spruce aroma and with sun-kissed sea salt elevate Provence's timeless blend of lavender, thyme, sage, marjoram, and rosemary.
The Meadow's Classic Vinaigrette
Combine all ingredients in mason jar. Put lid on mason jar and shake vigorously to combine, about 20 seconds. Serve immediately over fresh bitter greens. We like escarole, but arugula, dandelion greens or frisée works beautifully.
Ingredients: Fleur de sel, thyme, rosemary, marjoram, sage, lavender, fennel, blue spruce oil
Made in Portland, Oregon!