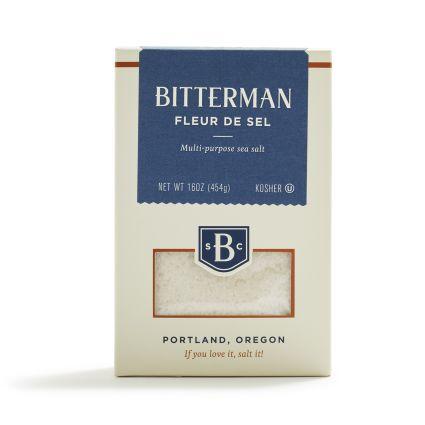 Bitterman's Fleur de Sel Sea Salt
Utilizing the power of the sun, Bitterman's Fleur de Sel is hand harvested from solar-evaporated salt ponds by skimming just the finest crystals from the surface. This Fleur de Sel is made in Guatemala, known for its rich tropical climate, using salt pans in an area famed for supplying the Mayan Empire at the height of its power.
The salt has delicate crystals, luscious moisture, satisfying crunch, and a rich, balanced mineral taste.
Use: Like any fleur de sel, this salt works best for finishing delicate to medium-bodied foods ranging from Caprese salad, to cooked vegetables, eggs, and fish - even leaner meats like pork, game beef filet, etc.
Though many people believe that a fleur de sel must be from France, this is incorrect. The quality of this salt rivals even the very best French sea salts. Bitterman's Fleur de Sel is evaporated without the use of fossil fuels and is transported over sea by ship, resulting in one of the lowest carbon footprints of any salt.
*suitable alternative to SaltWorks Mayan Sun Tropical Seasalt
Ingredients: Sea salt