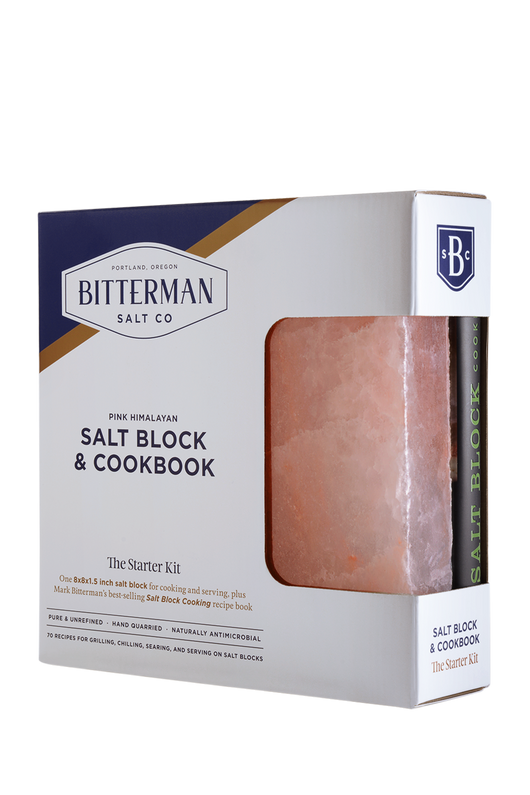 Salt Block Cooking + 8x8x1.5" Himalayan Salt Block Combo - Case Pack of 4
Best-selling recipe book Salt Block Cooking PLUS our most popular 8x8x1.5-inch Himalayan Salt Block!
This set includes a beautiful 8x8x1.5-inch salt block and a copy of Mark Bitterman's ultimate guide to cooking on salt, Salt Block Cooking. Guided only by a hunger for flavor and an obsession with the awesome power of salt, James Beard Award winning author Mark Bitterman pioneers uncharted culinary terrain with Salt Block Cooking, which provides simple, modern recipes that illustrate salt block grilling, baking, serving, and more. Everyone who loves the excitement and pleasure of discovering new cooking techniques will enjoy this guide to cooking and entertaining with salt blocks.
Our most versatile and popular size, the 8x8x1.5-inch block can be easily heated on a single burner and is large enough to cook for a small dinner party. This block brings dazzle and dramatic to every meal. It seems to exude a quiet, timeless intensity that effortlessly transforms every dish into something special.
Our Himalayan salt blocks are the best available anywhere, hand-picked from the purest seams of 600 million year old salt deposits deep under the rugged Punjabi landscape. Suitable for freezing to -320F (-196C) and heating to 900F (482C); no other salt block has been tested to such extremes! We literally wrote the book on cooking with Himalayan salt bricks, salt platters, salt slabs, and even salt bowls, earning the trust of everyone from Food Network stars to hard-hitting professional chefs to home cooks of every stripe.
Selected for both natural beauty and structural integrity, our salt blocks are suitable for all uses, from salt block freezing to frying to curing to grilling. Serve fruits and cheeses, cure unreal gravlax, warm a salad of wilted greens and Roquefort cheese, sear lobster or flatiron steak or duck breast with duck fat-fried potato chips, chill tuna tartar or scallop ceviche, and for desert, try freezing some salted bitters ice cream!
The introduction to Salt Block Cooking is your salt block owner's manual, with everything you need to know to purchase, use, and maintain salt blocks with confidence. The chapters that follow divide seventy recipes into six techniques:
Serving
Warming
Curing
Cooking
Chilling
Drinking
You'll find recipes ranging from a minty watermelon and feta salad to salt-tinged walnut scones, beef fajitas served tableside, salt-cured candied strawberries, and saltfrozen Parmesan ice cream!
Early praise for Salt Block Cooking!
"Mark Bitterman knows more about salt than anyone else on the planet. If you've ever wondered what to do with those handsome slabs of Himalayan salt you see at cookware shops, Salt Block Cooking will inspire you with wildly innovative uses you've never dreamed of, from cocktails to candy, from curing to grilling, and from ceviche to pizza. Along the way, you'll learn the half-billion-year history of the only food that starts as a rock."
--Steven Raichlen, author of the Barbecue! Bible series and host of Primal Grill on PBS
"Cooking on salt blocks will blow your mind, jump-start your creative process, make your food taste better, delight your friends, and cut down on the time you spend cleaning pots and pans. And what better guide for your new experience than Mark Bitterman, a man who has forgotten more about salt cookery than I will ever learn."
--Andrew Zimmern, host of Bizarre Foods with Andrew Zimmern on the Travel Channel 
~ Case pack of 4 book combos