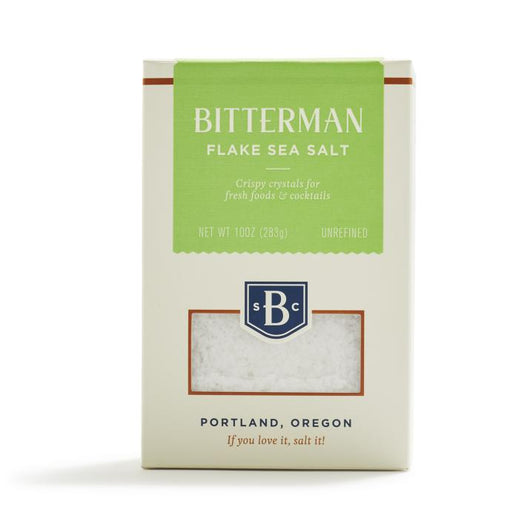 Bitterman's Flake Sea Salt
Delicate flakes for fresh foods & cocktails!
This salt is the snow of the sea, with a soft, crispy texture and a salinity so other-worldly it will transport any dish it touches. This salt loves spring and summer. Gently scatter the flakes on lightly dressed green salads, raw or freshly grilled vegetables, fish and other seafoods. Bonus: this salt is made using 100% renewable energy.
Michal Bietz Øverland grew up in Portland, Oregon. With her Norwegian husband and their two boys, she moved to Oslo in 2011, but it was the island where her husband's family came from that was the place where she felt most at home.
The old small family farm is located at the end of the road on the island Gossen, in the county of Møre and Romsdal. The property looks out on the open sea of the North Atlantic to the northwest and the high peaks of the mainland to the east and south. Here the the only the sounds are that of the wind, ocean and an abundance of birdlife.
With a deep interest in the cultural and historical influences salt and the salt trade have had globally, Michal began to study its history in Norway and its impact on our traditional fisheries. When you meet Michal you will discover her energy and a personality that likes to go from thought to action. A day out fishing, out past Bjørnsund towards Saltsteinen, a big rock sticking out of the ocean, she took several ten-liter containers and filled them with crisp cold seawater. Back on shore, in the boathouse, she used an old crab cooker and began experimenting with different historical processes to develop a unique Norwegian sea salt. She sent samples to her friend, Mark Bitterman, the world's leading expert on salt related to food. His response along with the responses of several great Scandinavian and American chefs told her she was on to something special. She recruited the help of her immediate family and together they created North Sea Salt Works.
Ingredients: Sea salt