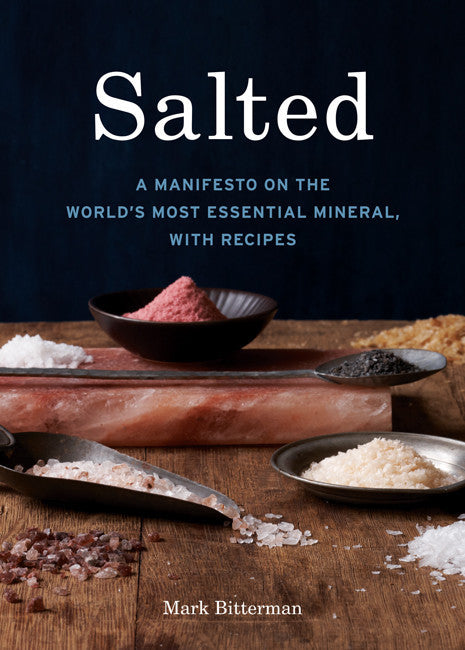 Salted: A Manifesto on the World's Most Essential Mineral with Recipes - Case Pack of 10
James Beard Award Winner! 2011! Mark Bitterman captures the nuance and beauty of salt in this stunning field guide featuring hundreds of varieties with photos.
From the elegant fleur de sel and flake salts to 500 million year old Himalayan salt slabs that resemble pink quartz, Bitterman explains the history and science of salt production. The book profiles over 150 salts, and includes 50 recipes that showcase this versatile and marvelous ingredient. Whether he's detailing the glistening staccato crunch of fleur de sel harvested from millennia-old Celtic salt making settlements in France or the brooding sizzle of forgotten rock salts transported by the Tauregs across the Sahara, Bitterman's mission in SALTED is to encourage us to explore the dazzling world of salt beyond the iodized curtain.
Named in "6 Best Food Books" of the Fall by Christian Science Monitor! If you care about food, cooking, and taste, then you care about salt. And if you care about salt you will be over the moon about Salted by Mark Bitterman (Ten Speed Press). …. His book is a veritable encyclopedia of the world's most well-loved mineral and will teach cooks how to take their dishes to the next level by learning to master the principles and techniques of salting. "Salted" is transformative; it will change the way you cook.
~ Case pack of 10 books