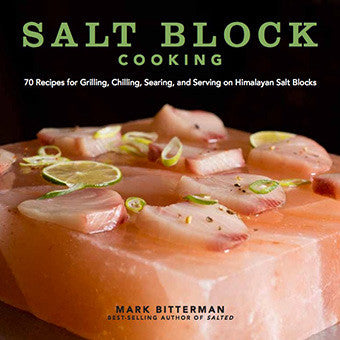 Bitterman' Salt Block Cooking - Case Pack of 14
Best-selling recipe book Salt Block Cooking includes 70 Recipes for Grilling, Chilling, Searing, and Serving on Himalayan Salt Blocks
A precious mineral mined from ancient hills deep in Asia has stormed the American cooking scene. With hues ranging from rose to garnet to ice, Himalayan salt blocks offer a vessel for preparing food as stunningly visual as it is staggeringly delicious. Guided only by a hunger for flavor and an obsession with the awesome power of salt, James Beard Award winning author Mark Bitterman pioneers uncharted culinary terrain with Salt Block Cooking, which provides simple, modern recipes that illustrate salt block grilling, baking, serving, and more.
Everyone who loves the excitement and pleasure of discovering new cooking techniques will enjoy this guide to cooking and entertaining with salt blocks.
The introduction is your salt block owner's manual, with everything you need to know to purchase, use, and maintain salt blocks with confidence. The chapters that follow divide seventy recipes into six techniques:
Serving
Warming
Curing
Cooking
Chilling
Drinking
You'll find recipes ranging from a minty watermelon and feta salad to salt-tinged walnut scones, beef fajitas served tableside, salt-cured candied strawberries, and saltfrozen Parmesan ice cream!
This book is the definitive text on Himalayan salt blocks, written by the man who wrote the definitive text on salt. Enough with salting your food—now it's time to food your salt!
Early praise for Salt Block Cooking!
"Mark Bitterman knows more about salt than anyone else on the planet. If you've ever wondered what to do with those handsome slabs of Himalayan salt you see at cookware shops, Salt Block Cooking will inspire you with wildly innovative uses you've never dreamed of, from cocktails to candy, from curing to grilling, and from ceviche to pizza. Along the way, you'll learn the half-billion-year history of the only food that starts as a rock."
--Steven Raichlen, author of the Barbecue! Bible series and host of Primal Grill on PBS
"Cooking on salt blocks will blow your mind, jump-start your creative process, make your food taste better, delight your friends, and cut down on the time you spend cleaning pots and pans. And what better guide for your new experience than Mark Bitterman, a man who has forgotten more about salt cookery than I will ever learn."
--Andrew Zimmern, host of Bizarre Foods with Andrew Zimmern on the Travel Channel
"Salt Block Cooking is an essential guide to working with salt blocks. It opens readers' eyes to possibilities never imagined before and gives a unique perspective on a completely new and interactive way to cook. Mr. Bitterman has changed the way I cook every day. He made me understand that salt is the most essential part of the seasoning process and is just as important as the ingredient itself. I encourage you to follow Mr. Bitterman's lead and I promise you will never think about salt in the same way again."
--Vitaly Paley, chef/owner of Paley's Place Bistro and Bar, Imperial, and Portland Penny Diner; coauthor of The Paley's Place Cookbook
About the Author
Mark Bitterman is selmelier and owner of The Meadow, a specialty food business with locations in Portland, Oregon, and New York City. Mark's first book, Salted: A Manifesto on the World's Most Essential Mineral, with Recipes, won a James Beard Foundation Award. A leading expert on finishing salt, chocolate, and bitters, Mark has clientele from top chefs to food manufacturers to home cooks. Mark leads salt-inspired dinners at many celebrated restaurants and lectures at culinary schools such as the French Culinary Institute, the Institute of Culinary Education, and Le Cordon Bleu. He has been recognized as a Local Food Hero by Cooking Light and a Tastemaker in Food & Wine. He has been featured on Splendid Table, All Things Considered, CBS News, ABC News, Fox News, MSNBC, CNN, and the History Channel, and in the New York Times, the Atlantic, O, Wine Spectator, Cooking Light, Esquire, the Huffington Post, Ruhlman.com, and more.
Case pack of 14 books